Album Reviews
Albert Castiglia takes out the "Big Dog"
Albert Castiglia is a very talented American blues singer, songwriter and guitarist. For Castiglia Blues is everything, and he gives his best every time he sings a song, or goes out on the stage. His newest amazing release is the album "Big Dog", released by Ruf Records, on May 20, 2016. The album was recorded at Darkside Studio in Maurice, LA. Castiglia and his band Mike Zito on Electric, Acoustic Guitars, Vocals, Percussion, Scot Sutherland on the Bass Guitar, Rob Lee on Drums, Lewis Stephens on the Piano, Wurlitzer, and Organ, Johnny Sansone plays the Harmonica. All of them have put together this dynamic 11 track album, "Big Dog" .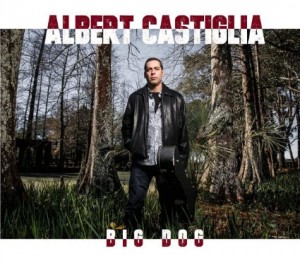 The opening song is "Let The Big Dog Eat", and here you can realy hear and feel Castiglias guitar and powerful vocal skills. "Get Your Ass In The Van" brings a little rock in this album, and a lot of fun also you can get the same feeling in "What The Hell Was I Thinking" . "Don't Let Them Fool Ya" and "Drowning At The Bottom", are a great example of how should a good blues track sound, they are steady but rhythmic. If you are eager to hear a little bit funk in this blues "Easy Distance" will do that for you, a great track with great moments in it. The closing track of "Big dog" is the soft ballad "Somehow".
Albert Castiglia and "Big Dog" will bring back the faith in blues for you. All of the tracks in this album are original and pure. "Big Dog" deserves a chance, you won't regret it.
Milena Staniskovska
May 27th, 2016