Album Reviews
C.W. Stoneking electrifies with "Gon' Boogaloo"
C.W. Stoneking is a well known Australian singer, guitarist and songwriter. Six years have passed after his last amazing album "Jungle Blues", and now he has a new fresh and original album for us, "Gon' Boogaloo". The album was released on June 3rd 2016, by King Hokum Records.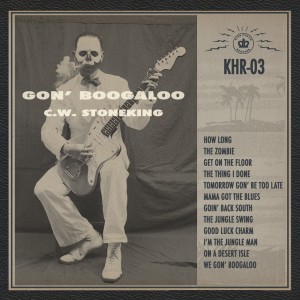 "Gon' Boogaloo" has 12 track, that will amaze you with their authenticity. This album is a little bit different then the previous, thanks to the electric components , but don't worry the Blues is here to stay. The opening songs is "How Long" , a track that sounds like gospel, but goes against all gospel is about. One of the songs that stand out on this album are "Zombie", "Mama Got the Blues," and the tittle track "We Gon' Boogaloo."All of this songs have the energy that will make you shiver and grin at the same time. Andrew Scott is great with his vocal skills, Jacob Kinniburgh has got the bass, Kanchana Karunaratna on drums, and others.
"Gon' Boogaloo" deserves to be praised for many years, and C.W. Stoneking has proven himself like a very worthy artist.
Milena Staniskovska
August 6th, 2016