Album Reviews
Delbert McClinton blends blues and jazz with "Prick of the Litter"
The multi-Grammy Award winning artist Delbert McClinton, that is over fifty year on the Blues Rock scene released his 19th album "Prick of the Litter", in collaboration with Self-Made Men. "Prick of the Litter" was released on January 27th by Hot Shot Records.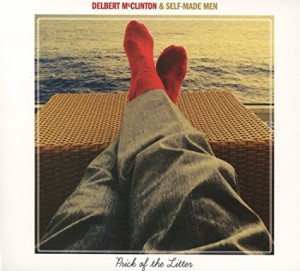 This album shows the gentle but experiences side of McClinton, where he is not afraid to combine blues, jazz and country in one pack. The blues veteran surprised everyone with his new energy. But this album wouldn't be complete without Self-Made Men, that includes Bob Britt (guitar), Kevin McKendree (keyboards), Mike Joyce (bass), Jack Bruno (drums), and Quentin Ware (trumpet). This fellas really contributed to the quality of the album. "Don't Do It" is the first track that "jumps in to blues water" and makes you feel the groove thanks to guest stars Lou Ann Barton and Jimmie Vaughan. "Like Lovin' Used to Be","San Miguel" and "Jones for You," show McClinton's jazzy side. You will enjoy the piano work on the blues track "Pulling The Strings". "Neva" brings the sparks in this album, thanks to the funky touch.
This twelve tracks on "Prick of the Litter" showed us that Delbert McClinton still has his thing, no matter what age he is. This mans work is unique and timeless.
Milena Staniskovska
February 4th, 2017