Album Reviews
Jeff Healey legacy stays alive with "Holding On"
Jeff Healey sadly passed away in 2008 after several battles with cancer. This blues rock guitar maestro will never be forgotten thanks to the legacy he left behind. "Holding On" is the new gem of Jeff's "lost albums". This album is billed as a 'companion' to Heal My Soul, the great 'lost album' which came out earlier this year, with the first five tracks being from the same sessions coupled with a live recording from the Rockefeller Music Hall in Norway from 1999.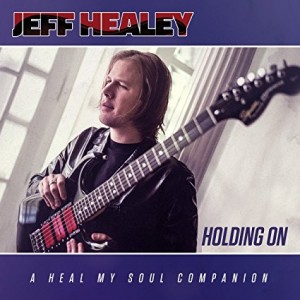 The album has 5 studio tracks, and 10 live tracks. We can say that in the studio tracks Jeff combines his blues abilities and adds some great solid rock sound. "Every Other Guy" will wake up the romantic side in you, a great blues track, made to be loved. "Dancing With Monsters" is a one of a kind blues-rocker song, a great representative of the power of this album. If you are a fan of slower acoustic sound ,"All That I Believe" is the right track for you."CNBlues" is the last of the studio tracks, and a great instrumental, to announce the live tracks comming next. The live tracks bring, tear and joy at the same time. Tears for the lost of this amazing talent, and joy for the beautiful sounds that he left us. On the live tracks you can really feel the energy that Jeff had.
Jeff Healey never left us, and we should do the same, by honoring his music. "Holding On" really cleanses every negativity we have, and reminds us of the better days.
Milena Staniskovska
January 11th, 2017