Album Reviews
John Earl Walker tells a real story with "Mustang Blues"
John Earl Walker is an experienced American electric blues guitarist, vocalist, songwriter and producer. He began playing the guitar when he was just a teenager, at the age of thirteen. Shortly thereafter he began forming his own bands to play at local gigs in the New York City area, and spread his music all around the world.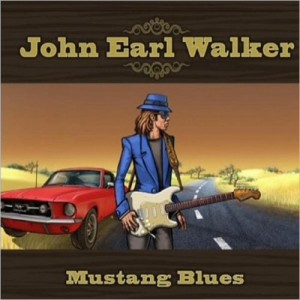 Walker's newest album Mustang Blues, is the real thing. Mustang Blues is an album where you will find traditional and modern blues spiced with a funky sound and amazing guitar riffs . One thing is for sure this album will melt in to your heart. All of the 10 songs are original, self-produced, and we have Gene Cordew on keyboards, long-time band mate Peter Harris on bass and Frank Diorio on drums. The album was released by Walkright Records, 2015. Mustang Blues starts with "Hey Baby," a trye bluesy love song that has a great bass line.The tittle track "Mustang Blues" is an autobiographical song, and it realy brings the funky side of this album. It's fun and jumpy, white explaining how hard it is to own a car in New York. We will mention also "My Mama Told Me", "Readjust", "I'm Already Gone," and other, all songs sang from the heart, ful with a lot of Johns emotions and hard path, or as he would say:
Mustang Blues is about true stories of my life the devil follows me is about how we are always facing choices to do the right thing or suffer the consequences. My inspiration comes from deep inside me I'm a very emotional person and I see and feel things very exaggerated.
John Earl Walker without a doubt did a great thing with this album. He gets blues like no one does. And we will be waiting for his new surprise, because as he said, he will keep writing and performing as long as he's able to.
Milena Staniskovska
May 5th, 2016