Album Reviews
Oz Noy brings a new style with "Who Gives A Funk"
Oz Noy is a very creative and outgoing guitarist. He was never limited to one type of music, so he started playing jazz, blues, pop and rock music when he was only 13. Noy released his newest album on April 15, 2016, by Abstract Logix Records,"Who Gives A Funk" an extraordinary album with a funky name.
The songs in "Who Gives A Funk" are inspired by the funk-blues nexus of the late-60's / early-70's music. The 10 tracks are all special by them selfes, but Noys guitar is the thread that connects them. One thing is for sure, this album is all about the movement and will follow your heartbeat. It doesn't matter how old are you, or what kind of music you like, "Who Gives a Funk" will get under your skin.
In "Who Gives A Funk" we have a lot of guest appearances, including performances by John Medeski, Dweezil Zappa, funk pioneer Fred Wesley, Chris Potter, Robben Ford, Randy Brecker, Joe Bonamasa, members of Stevie Ray Vaughn's Double Trouble, and Living Color vocalist Corey Glover.
01 Come On (feat. Fred Wesley)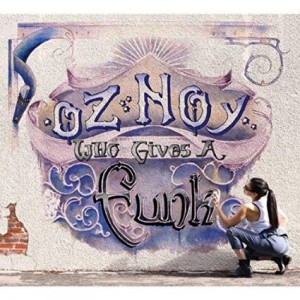 02 Flashback (feat. John Medeski)
03 Better Get it in your Soul (feat.Randy Brecker)
04 I Got You (feat. Chris Potter)
05 A Change is Gonna Come
06 Ice Man (feat. Robben Ford)
07 Zig Zag
08 Damn This Groove (feat. Dweezil Zappa)
09 Little Wing (feat. Corey Glover)
10 Five Spot Blues (feat. Joe Bonamassa)
Oz Noy did a great job with "Who Gives a Funk", and now is your turn to take a look at this colorful masterpiece.
Milena Staniskovska
May 21st, 2016