Album Reviews
Ronnie Earl Honors His Brother With "Maxwell Street"
Ronnie Earl is a serious and successful guitarist. He is the lead man of the Broadcasters .The current and gifted group of Broadcasters, Jimmy Mouradian (bass), Dave Limina (organ), and Lorne Entress (drums), began playing together prior to the 2003 release of I Feel Like Going On on the Stony Plain Record label and have now released a string of successful blues albums. Their newest album is "Maxwell Street" released on September 9th, by Stony Plain Records.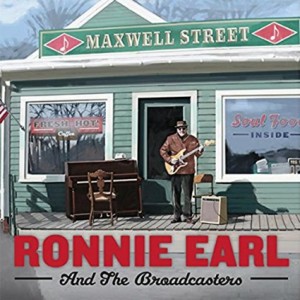 Maxwell Street is dedicated to Earls late brother David Maxwell. This album is very deep, and shows the true meaning of brotherly love. The album has six originals, plus exciting covers of songs by Otis Rush (one of Ronnie's main musical mentors), "Double Trouble;" Gladys Knight ("I've Got to Use My) Imagination;" Eddy Arnold, "You Don't Know Me;" and the blues/soul chestnut, "As the Years Go Passing By," which closes the album.Soulful vocalist Diane Blue appears, breaking things up with her sensitive offerings on a few numbers including the album closing "As The Years Go Passing By." A near, 12 minute reading of Otis Rush's "Double Trouble" is a workout.
Ronnie Earl and the Broadcasters gave their passed band member a proper goodbye and an everlasting memory. "Maxwell Street" will make you fall in love in the real blues.
Milena Staniskovska
September 23rd, 2016