Album Reviews
Royal Southern Brotherhood Rules With "The Royal Gospel"
Royal Southern Brotherhood is an outgoing American blues and blues rock group, that hit the market four years ago. This group continues making beautiful music thanks to the singer and percussionist Cyril Neville, guitarists Bart Walker and Tyrone Vaughan,drummer Yonrico Scott, and the new bassist Darrell Phillips. "The Royal Gospel" is their newest release and their fourth album.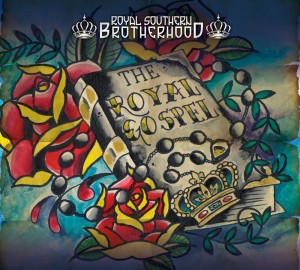 "The Royal Gospel" has nine songs, and was released on June 24th by Ruf Records. On this album we can really feel the deepest roots of blues, and enjoy it thru every song. Royal Southern Brotherhood was not shy on this album, they really started up the fire on this one. And when we talk about heat, "Where There's Smoke There's Fire" is one of the songs that will make your heart burn. With great and powerful vocals it really is a gem on this album. Also "Blood Is Thicker Than Water" offers a similar feeling. Guest keyboardist Norman Caesar is very helpful in some of the songs. "Hooked On The Plastic" offers a very funky sound, that must be heard.
Royal Southern Brotherhood has outdone themselves with "The Royal Gospel" . They have a great career together, and we hope to hear something new and fun from them again.
Milena Staniskovska
July 8th, 2016