Album Reviews
The Rides will hit your heart with "Pierced Arrow"
The Rides are a new formed but well experienced blues-rock band. The Rides formed in 2013 following a performance by the trio at a benefit, which led to the release of their debut album, "Can't Get Enough". The main acters in this dazzling trio are the Rock icons Stephen Stills, Kenny Wayne Shepherd and Barry Goldberg. And on May 6 they give us their second album "Pierced Arrow". The album has 10 songs and it's released by Savoy label.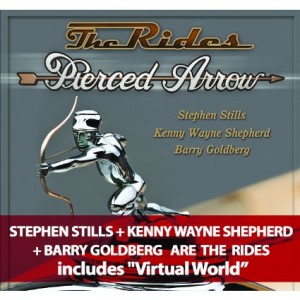 Shepherd goes for a faster rock approach on the early number "Riva Diva." While Stills' gentle vocals give depth to "Virtual World,". The two singer/guitarists duel with their six strings and trade off songs, allowing covers like Willie Dixon's classic "My Babe" into the mix. Fot the opening song we can hear the powerful Stephen Stills vocals on 'Kick Out Of It', a rocking groove which emulates the opening 'Roadhouse' track on 'Can't Get Enough'. 'Pierced Arrow' is a well balanced roots rock album, rooted in the blues but not hemmed in by it. Stills is out front on many of the tracks as lead singer but Goldberg's keyboards are the backbone of most of the tracks, solid and very professional without being at all flashy. With one word this album is a classic, and you wouldn't want to miss it.
The Rides is not an ordinary band, it's a band with legends, and all we can hope that these guys will make beautiful history.
Milena Staniskovska
May 13th, 2016