Album Reviews
Tommy Z Takes Us Thru The Blizzard Of Blues
Tommy Z is a contemporary blues guitarist, singer, songwriter and producer, who has released his new 3th album Blizzard Of Blues. Released on the 5th of February by South Blossom Records, this electric blues album is the blizzard we were all waiting for.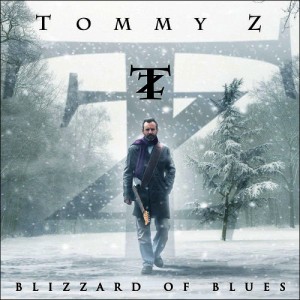 Blizzard Of Blues has 9 tracks, 8 of which Tommy wrote himself. Besides Tommy Z on guitar, a part in the blizzard has Jerry Livingston– bass, Damone Jackson– drums, and Kevin Urso on organ. The album was produced by Tommy Z, who also did a great job mixing, with a some help from Nick Blagona. Lovergirl is the first song in this album, and the first reason to keep listening the rest of the track. This track brings fun and excitement all from the start. Blues for K.P. and Going to a Party, are the two songs where Tommy pays his respects to Stevie Ray Vaughan, his hero and inspiration. Miracle has a slow, rocky, jazz and gospel fueled sound that is very catchy. The only cover is My Eyes (Keep Me in Trouble), that is inspiring and a great throwback to the 1950s. Bags of Cool mixes blues with funk, and it just gives that groovie feeling, wich is even more present in the closing song Al's Groove.
Blizzard Of Blues is a great example for a well played blues album, it gets the atmosphere up, and the emotions on, and that is all you need from a album. We can just hope that Tommy Z will give us another trip like this.
Milena Staniskovska
April 11th, 2016