Album Reviews
Vassilis "Blue" Sotiriou and B.R.B will take you high with "Reach The Skies"
Vassilis "Blue" Sotiriou is a very talented and promising guitarist from Greece. Sotiriou made his first steps towards music at the age of 5 when his father gave him his first guitar. That same year they moved to Thessaloniki where he resides today. There is no doubt that Vassilis "Blue" Sotiriou pours his emotions and love in every song that he performs.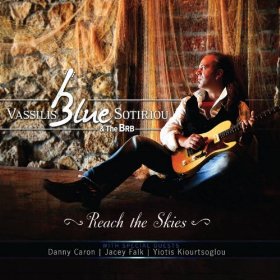 His first and newest Jazz-Blues album is from 2013 entitled "Reach The Skies". The album was released by Polytropon Records an it has 11 excelent tracks. "Reach The Skies" is a perfect blend thanks to Sotiriou and his band the Blue Rose Band. Blue Rose Band is a well measured blend of Blues, Funk, Soul and Jazz music. Vassilis "Blue" Sotiriou created B.R.B. in 1987, in Thessaloniki, Greece. Vassilis "Blue" Sotiriou is the voice and guitar of this amazing band, while Philippos Kostavelis is the piano and keyboard player, Christos Yermenoglou is the drummer, Agamemnon Mardas as the electric and upright bass player. And for the making of "Reach The Skies" a part of the team became Christos Anastasiadis on trumpet and James Wylie on saxophones. "Reach The Skies" is a very original and special album, not only because all the songs where written by Vassilis "Blue" Sotiriou, but for the strong emotional connection between the songs and the artist .Special guests for this album were Danny Caron ,Jacey Falk, and Yiotis Kiourtsoglou.
Europe needs this kind of talented musicians, we can just wait and hope for the next release of this amazing Blue Rose Band, and the one and only Vassilis "Blue" Sotiriou.
Milena Staniskovska
May 8th, 2016